Volunteer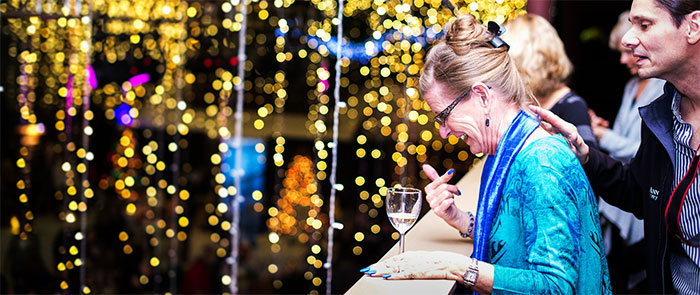 The Festival runs on people power, and every pair of hands makes a difference. We warmly invite you to become a part of the Festival family by joining us as a volunteer. Whether you are greeting people, soliciting auction items, registering guests, setting up, cleaning up, or decorating, each person involved is an important part of the celebration. An incredible number of people have given their time, energy, and resources to make our past festivals successful. We are grateful to be a part of such a caring community.
Events and Activities
Set-up prior to events
Weekend Holiday Events, Entertainment, and Activities
Culinary Classic and Silent Auction
Gala and Grand Auction
Tear-down after events
What to Wear
Please wear comfortable shoes. A white or light-colored shirt is recommended with black or dark pants or skirt.
Meals and Breaks
In the spirit of raising money for the organizations, please remember you are here to volunteer, so we ask that you hydrate and eat prior to your shift. There is a refrigerator available to store your sack meals. AFTER YOUR SHIFT, if you are working in the evening at the Culinary or Gala Event, there may be an opportunity to sample some of the food items. Please check with Gigi Ashley or Sue Price before doing so.
Alcoholic Beverages
Oregon Liquor Control Commission (OLCC) will be present. NO drinking of alcoholic beverages is permitted during your shift. Absolutely no alcoholic beverages are allowed in the reception area. When busing tables, no one under 18 years of age may touch a wine glass with alcohol in it. Tables must be bused by someone over 18 years of age who has a current OLCC license.
Joining in on the Festivities
Please check with Gigi or Sue before ending your shift. After your shift, you are welcome to sit or stand in the back or join your friends. Please remember that our guests come first. Seating is reserved for attendees. If you notice a guest looking for someplace to sit, please direct them to an available seat.
Touring the Bear Hotel
For security reasons, only authorized personnel or scheduled volunteers may enter the Bear Hotel during set-up. Please do not bring friends and family to tour the hotel prior, after, or during your shift. If someone stops by who is not a scheduled volunteer, please contact the Bear Hotel Staff.
What Will You Do?
Job assignments are based on your requests and the information you provide on the volunteer form. All jobs require your full attention, so please do not bring children with you.
Confirmation
Prior to the Festival, volunteers will each receive a confirmation email or phone call regarding the date, time, and details regarding their scheduled helping time. Volunteers must sign up and be confirmed; no drop-ins allowed. If you need to cancel at the last minute due to emergency or illness, please contact Gigi or Sue ASAP so that we can arrange for the coverage we need.
Please see the Volunteer Form for job descriptions. Volunteers must be at least 14 years of age.
Thank you!
Gigi Ashley, Event Coordinator
541.660.3430, gigi@roguewinterfest.org
Sue Price, Event Planner
541.890.5472, sue@roguewinterfest.org
We Appreciate Your Help!
Please complete the form below to volunteer for this year's Rogue Winterfest.