Rogue Winterfest Calendar of Events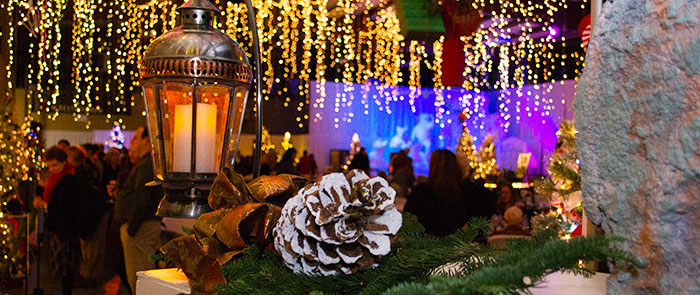 FOR IMMEDIATE RELEASE
Date: October 28, 2014
Regarding: Rogue Winterfest
Contact: Event Planner Sue Price, 541.890.5472, sue@roguewinterfest.org
Dates: December 4–8, 2014
Website: See roguewinterfest.org for details, tickets, and outlets.
Feature Story Opportunities: Many of the tree designers and artists are well on their way to designing incredible holiday trees and one-of-a-kind art pieces. For a list of story ideas, please contact Gigi Ashley, Event Coordinator, gigi@roguewinterfest.org, 541.660.3430.
Location: Josephine County's largest holiday festival is held at Evergreen Federal Bank's Bear Hotel, 2101 NE Spalding Ave., Grants Pass, OR.
12th Annual Rogue Winterfest
Description
Spectacular five-day festival featuring four incredible events—enjoy a mix of creative artistry; exceptional culinary offerings, including award-winning wine and beer tastings; family holiday activities; top entertainment; and silent and live auctions. This annual fundraiser helps children, adults, and families with mental health needs at Kairos, Family Solutions, and Options for Southern Oregon.
Calendar of Events
12th Annual Rogue Winterfest
December 4–8, 2015
Gala and Grand Auction
Thursday, December 4, 2014
Exquisite tree and art auction; Oregon Bounty Dinner sponsored and prepared by Taprock Northwest Grill with food donated by local culinary establishments; local wines; and entertainment by Pat DeBellis Band.
Golden Social
Friday, December 5, 2014
A private event for guests over 55 years of age. Light appetizers and desserts sponsored by Highland House and Royale Gardens; entertainment; and holiday tree and art viewing.
Weekend Holiday Events
Saturday and Sunday, December 6 & 7, 2014
This is a holiday event for the whole family. The public is invited to view creatively decorated trees and locally produced art along with Evergreen Federal Bank's legendary Christmas on Mars Exhibit. Visit Santa and Mrs. Claus; engage in family activities and games; enjoy live entertainment; and vote on the People's Choice Award. Activities include Fishing at the North Pole, coloring and letters to Santa, holiday building project with Home Depot, Fantasy Face Painting, and taking that perfect photo in the spectacular Christmas on Mars setting. Every 45 minutes, the entertainment on the big stage will rotate, ranging from bands to choirs to individual singers to classical performers during this live musical mash-up.
Culinary Christmas Classic and Silent Auction
Monday, December 8, 2014
Savor culinary tastings from Southern Oregon's finest restaurants, caterers, wineries, and breweries. Enjoy creatively decorated trees, shake it up with live music by Ben Rice, and bid on unique Silent Auction items.
Tickets
Purchase tickets online or in person at Evergreen Federal Bank, 969 SE 6th Street, Grants Pass. Advance reservations required for Gala, Culinary, and Golden Social Events. Weekend holiday tickets sold only at the door.
Major Sponsors
Platinum Sponsor
Diamond Sponsors
Mid Rogue IPA / CareSource Health Plan
Gold Sponsors
Three Rivers Asante Medical Center and Asante Foundation
More Details
For additional information about the 2014 Rogue Winterfest, please visit our website.