Rogue Winterfest 2014: A Creative Mix of Artistry, Culinary, and Entertainment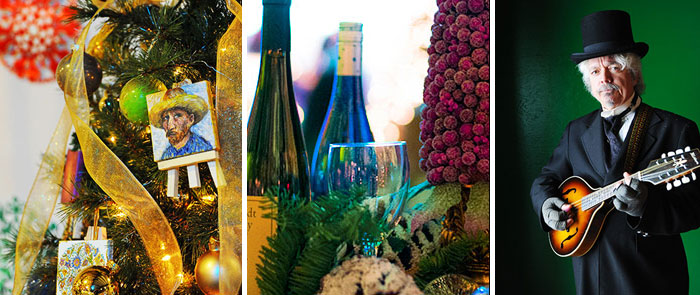 FOR IMMEDIATE RELEASE
Date: August 3, 2014
Regarding: Rogue Winterfest
Contacts: Event Planner Sue Price, 541.890.5472, sue@roguewinterfest.org; Event Coordinator and Designer Chair Gigi Ashley, gigi@roguewinterfest.org, 541.660.3430
Planning is Underway for the 12th Annual Rogue Winterfest
Grants Pass
Volunteers, designers, sponsors, entertainers, wineries, culinary establishments, and artists are working together to create the amazing five-day holiday event Rogue Winterfest. This one-of-a-kind magical Festival is held annually in Grants Pass at Evergreen Federal Bank's Bear Hotel.
Rogue Winterfest helps supportthree vital mental health agencies in Josephine County: Kairos, Options for Southern Oregon, and Family Solutions. When you become a Rogue Winterfest sponsor or donor, your business enjoys high visibility throughout Josephine County's biggest holiday Festival.
This 5-day Festival Features 4 Incredible Events
Gala and Grand Auction
Thursday, December 4, 2014
Golden Social
Friday, December 5, 2014
Weekend Holiday Events
Saturday and Sunday, December 6 & 7, 2014
Culinary Christmas Classic and Silent Auction
Monday, December 8, 2014
For the Community, by the Community
"It takes the entire community to make Rogue Winterfest successful. We are extremely grateful for the donation of Evergreen Federal Bank's Bear Hotel and the outstanding support of our many volunteers, artists, designers, entertainers, culinary establishments, and generous sponsors. It's because of their generosity that we can continue to create Rogue Winterfest for the entire community to enjoy. But most importantly, this event helps raise funds for the three mental health organizations that help thousands of people get the care they need to improve the overall health of our community."
—Sue Price Event Planner, Rogue Winterfest
Every year, the Festival continues to grow, both in sponsorships and attendees. Last year, most events were sold out. This year, there will be 30 trees and art pieces on display throughout the events. Rogue Winterfest blends artistry, culinary delights, entertainment, stunning designer creations, and holiday spirit—all under one roof!
Planning for Rogue Winterfest begins in January and continues throughout the year. Committees meet on the second Monday of every month. If you would like to get involved or become a sponsor, please contact Event Planner Sue Price at sue@roguewinterfest.org.
Major Sponsors
Platinum Sponsor
Diamond Sponsors
Mid Rogue IPA / CareSource Health Plan
Gold Sponsors
Three Rivers Asante Medical Center and Asante Foundation
More Details
For additional information about the 2014 Rogue Winterfest, please visit our website.
Who Benefits from Rogue Winterfest?
Did you know that one in five young people have one or more mental, emotional, or behavioral challenges? One in ten youth experiences challenges severe enough to impair how they function at home, school, or in the community. These agencies work hard to meet the mental and behavioral challenges of people within our community.
It may be little known that there are high rates of mental illness among children. One out of five children between the ages of 6 and 17 have experienced mental health symptoms and do not receive help. The majority of these are minority children. Latino children are less likely to be identified as having a mental disorder, and 88% of them have unmet mental health needs.
These three agencies were created in response to help with these challenges, and through the support of the community, they are able to carry out their important work. The contributions raised by Rogue Winterfest are used to help fund Options for Southern Oregon, Family Solutions, and Kairos.
Through supporting events such as Rogue Winterfest, these amazing agencies can continue to provide much needed supports and services throughout our community. Please visit our website at our website. We have many different levels and types of sponsorships ranging from a Small Tree Sponsor $350 to a Platinum Sponsor $10,000.
About the Agencies
Kairos (formerly SOASTC) has been providing services in Josephine County for over 37 years. They are dedicated to collaborating with at-risk young people, their families, and communities to find effective solutions to their challenges. Kairos builds upon strengths and instills hope by creating opportunities for understanding, healing, and growth. They envision a region of communities that values mental and emotional wellness in which all youth and their families have appropriate support and care. For more information about Kairos, please visit their website.
Family Solutions provides a continuum of community-based mental health services for children, youth, and their families. They empower participants by guiding them through the process of identifying and implementing solutions to their problems. Their overall philosophy is based on the value of preserving individual and family integrity by helping children and families build on their innate strengths. Please visit their website for more details.
Options for Southern Oregon is a nonprofit organization established in 1981 and serves as Josephine County's mental health provider. They foster mental and emotional health in children, adults, and families, and support their clients' participation as respected members of the community. Options provides housing, advocacy, community integration, crisis intervention, therapy, education, work, and economic well-being. Options' programs encourage individual empowerment, hope, and recovery. See their website for more information.