October 10, 2013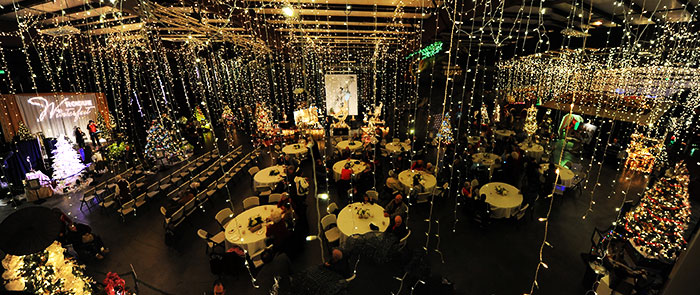 Buy Your Tickets Now!
Rogue Winterfest tickets are on sale online at roguewinterfest.org/tickets or in person at Evergreen Federal Bank, 969 SE 6th Street, Grants Pass. Last year, both the Culinary Christmas Classic and Gala Event & Grand Auction sold out! Don't miss out … get your tickets NOW!
The Festival showcases beautifully decorated trees and one-of-a-kind art pieces designed by talented local artists and designers. Rogue Winterfest's four main events span five exhilarating days from December 5 through December 9, 2013: Gala Event & Grand Auction, Golden Social, Weekend Holiday Event, and Culinary Christmas Classic. All events will be held at Evergreen Federal Bank's Bear Hotel in Grants Pass—a unique venue transformed into a magical holiday wonderland surrounded by Northern Lights. Funds raised during this spectacular community festival support three mental health agencies in Josephine County: Family Solutions, Kairos, and Options for Southern Oregon.
Featured Sponsors
Special Occasions, Rentals, & Designs
Special Occasions is a boutique-size rental & design company providing services from basic rental delivery to design and full event coordinating. They pride themselves on providing fine quality and well-maintained items for your very special occasion. Choose from elegant white wooden chairs, general event chairs, tables, garden umbrellas, tabletop accessories canopies, unique finds, and custom pieces made to order.
Special Occasions is designing all the centerpieces and stage decorations throughout the Festival. We are thrilled to have them as part of our event team. A special thank-you to Evergreen Federal Bank for sponsoring the decorations.
Visit Special Occasions Rentals & Design on Facebook or contact Linda Day or Jeaneen Beagley at specoccasionsgp@aol.com for your event planning needs.
Evergreen Federal Bank: Proud Sponsor of Rogue Winterfest
Evergreen Federal Bank is proud to sponsor Rogue Winterfest. This marks the seventh consecutive year that Evergreen will host the event at Evergreen's Bear Hotel.
"We are pleased to be a part of an event that benefits such a worthy cause," says Bank President Jeff Hyde. "The work of Family Solutions, Kairos, and Options for Southern Oregon is greatly appreciated and important to our community."
This year, Evergreen will add special effects to their Bear Hotel Christmas exhibit, setting the stage for an even more spectacular event.
"Each year, I am impressed how the Rogue Winterfest crew and our Evergreen Marketing Department manage to transform the Bear Hotel into something new," adds Jeff. "This year is no exception as they add Northern Lights to the display." Evergreen's Bear Hotel and their hosting of events like Rogue Winterfest are part of what make Evergreen Federal Bank unique.
"In 2014, Evergreen will celebrate our 80th anniversary. We are proud to be a community bank that is able to serve customers locally and make a difference where they live. We appreciate local nonprofits like the mental health organizations supported by Rogue Winterfest that share our mission to help build a strong community."
Please Donate to the Silent Auction!
Do you want to showcase your business or service to hundreds of potential buyers while at the same time contributing to an incredible cause? Then donate to the Silent Auction offered during the Culinary Christmas Classic event. Vacation, wellness, and adventure packages are among the items that will be auctioned during the evening. Our goal is to have more than $20,000 in Silent Auction items to bid on. Every year, we are overwhelmed by the exceptional items and services donated for auction.
Silent Auction items will be listed on the Silent Auction page at our website.
How to Donate a Silent Auction Item
Please fill out the form at Donate an Auction Item or contact:
Silent Auction Team Captain
Mary Lynne DeRocher
541.956.4943, ext. 1116
---
Featured Event

Golden Social
Friday, December 6, 2013
1:00 to 4:00 pm
Only $3.00 per person
This event is open to our friends over 55 years of age. Advance reservations required. For group reservations, please contact Sue Price at 541.890.5472 or sue@roguewinterfest.org.
Last year was the first year we offered the Golden Social. It was such a success we are offering it again to our senior community and retirement centers. The public is invited to view holiday trees and art displays along with Evergreen Federal Bank Bear Hotel's fantastic Christmas on Mars Exhibit.
Hosted delectable desserts and assorted beverages from our generous Golden Social Sponsors, Highland House and Royale Gardens will be served. Attendees can also enjoy exceptional entertainment by Donna Tennaro. This is a delightful holiday event for our senior community to enjoy.
---
Call out to Culinary and Beverage Establishments!
Every year, one of the public's favorite events is the Culinary Christmas Classic. Establishments from all over Southern Oregon come together to showcase samples of their epicureal specialties. Proceeds raised during this event will go to help children, families, and adults with mental health needs in our community. Fourteen restaurants and caterers are paired with award-winning wineries and breweries. Combine food and beverage tastings with a $20,000 in Silent Auction items and entertainment by Broadway Phil and the Shouters. Get involved in this exceptional night!
Currently Participating Culinary Establishments
The Bohemian Bar and Bistro, Cary's of Oregon, Highland House, Infuzed Xpress, Keziah's Kitchen, The Loft Brasserie, Orchid Grill, Rogue River Lodge, Rosso's Trattoria, Historic Prospect Dinner House, and The Vine Restaurant.
Currently Participating Wineries and Breweries
Bridgeview Vineyards, Del Rio Vineyards, Devitt Winery and Vineyards, Ledger David Cellars, Plaisance Winery and Ranch, Rosella's Vineyard, Schmidt Family Vineyards, Serra Vineyards, and Wooldridge Creek Winery. Please contact Sue Price, Rogue Winterfest Event Planner, for more information on how you can participate and showcase your business. Email her at sue@roguewinterfest.org or call 541.890.5472.
---
A special thank-you to Southern Oregon Audio Visual for providing all of our lighting and audio needs throughout the Festival. You make us look good!
Thank you, Siro!
---
For More Details
Visit our website or contact:
Event Planner
Sue Price
sue@roguewinterfest.org541.890.5472
OR
Event Coordinator 
Gigi Ashley
541.660.3430