November 11, 2014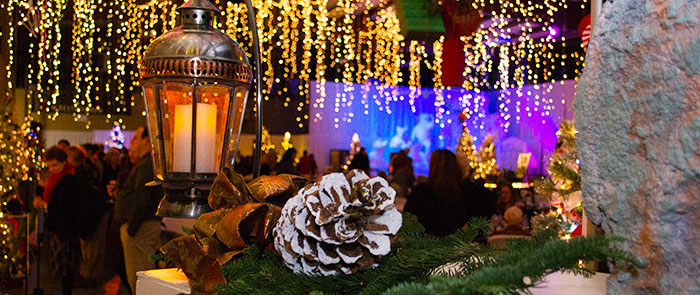 About Rogue Winterfest
Rogue Winterfest is a magical five-day festival with four incredible events, each with its own distinctive charm. We invite you to savor this unique mix of creative artistry, exceptional cuisine, award-winning wine and beer tastings, family holiday activities, top entertainment, and silent & live auctions. Please visit roguewinterfest.org for details.
Rogue Winterfest is not only an amazing festival for the whole community to enjoy—it is also a fundraiser to help children, adults, and families with mental health needs at Family Solutions, Kairos, and Options for Southern Oregon.
All events are held at:
Evergreen Federal Bank's Bear Hotel
2101 NE Spalding Avenue
Grants Pass
Schedule of Events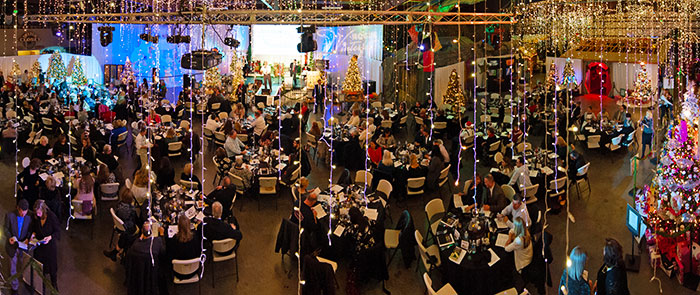 Thursday, December 4
This grand opening night features an Oregon Bounty Buffet prepared and sponsored by Taprock Northwest Grill with food donated from Pacific Seafood, Harry & David, Farmers Express, Kirsch Family Farms, Rogue Creamery, Rising Sun Farms, and Cary's of Oregon as well as incredible desserts from local bakeries. The Pat DeBellis Band will be performing while you stroll and view the one-of-a-kind holiday tree and art until auction time.
Oh, what a night! This year, the designers have outdone themselves, and the gifts under the trees are truly amazing. You will find rafting trips, jewelry, fishing packages, children's handmade princess dresses, vacation packages, furniture, wine, and so much more. It's the perfect time to buy a tree for your home, office, or favorite charity. One tree has more than $5,000 worth of gifts under the tree!
The Gala and Live Auction is almost sold out! For a list of trees, art, and vacation package that will be auctioned, visit the Gala Auction page at our website.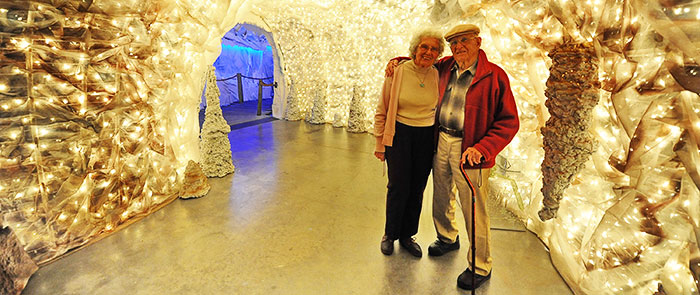 Friday, December 5
Where can you enjoy delicious appetizers and desserts, listen to live music, feel comfortable, meander through beautiful holiday trees and one-of-a-kind art, and be surrounded by friends and family while getting into the holiday spirit? The Golden Social is where the action is if you are 55 or older. Sponsored by Highland House and Royale Gardens, this event is our way of giving thanks to our senior community. Just wait until you sample some of their scrumptious desserts and tasty appetizers. We are grateful to have Highland House and Royale Gardens' support. Space for this event is limited, so make your reservations now!
Entertainment Schedule
1:00–1:45 pm Donna Tennaro
2:00–2:45 pm Bob Clark
3:00–3:45 pm Bob Armstrong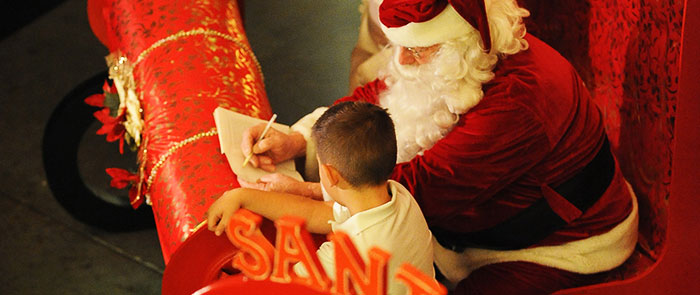 Saturday & Sunday, December 6 & 7
Pack up the kids, your friends, and relatives and head to Evergreen Federal Bank's Bear Hotel for one fun morning and/or afternoon. You will not be disappointed by this holiday event for the whole family! View creatively decorated trees and locally designed art along with Evergreen Federal Bank's legendary Christmas on Mars Exhibit. Visit Santa and Mrs. Claus; engage in family activities and games; enjoy live entertainment; and vote on the People's Choice Award.
Activities include Fishing at the North Pole, coloring and letters to Santa, holiday building project with Home Depot, Fantasy Face Painting, making stockings, and taking that perfect photo in the spectacular Christmas on Mars setting.
Each hour, the entertainment on the big stage will change, ranging from bands to choirs, from folk to reggae. Come enjoy this live musical extravaganza!
Entertainment Schedule
Saturday
10:00 am Grants Pass High School Orchestral Quintet
11:00 am Grants Pass High School Sounds Unlimited
12:00 noon Donna Tennaro
1:00 pm GPHS Jazz Band
2:00 pm James Kimball
3:00 pm Tommy Lawless
Sunday
10:00 am Bob Clark
11:00 am Jenny Skudstad
12:00 noon Timeless
1:00 pm Beckkah McAlvage
2:00 pm Jen Ambrose
3:00 pm Shybo Torres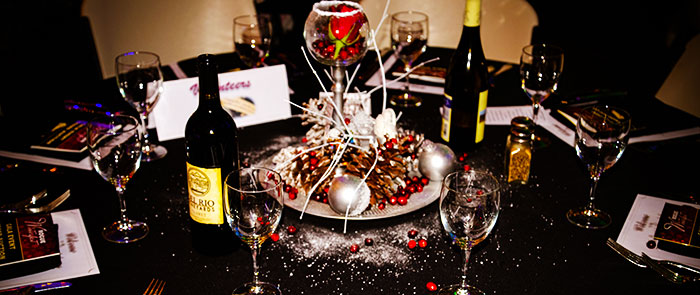 Monday, December 8
Many guests return year after year, saying the sumptuous Culinary Christmas Classic is a "must-do" event. This year, the Ben Rice Band will be entertaining us. The wine and beer tastings, food samples, fantastic Silent Auction, spectacular setting surrounded by 30 holiday trees, unique art displays, and thousands of sparkly ceiling lights make this a community destination event not to be missed!
Sponsors
Below is a list of participating food and beverage sponsors. The sponsors are what make Rogue Winterfest all happen. We are grateful to each and every one!

CULINARY ESTABLISHMENTS
Bohemian Bar & Bistro
Cary's of Oregon
Highland House
Infuzed Express
Orchid Grill
Paisano's Italian Kitchen (Rogue River)
Prospect Historic Hotel
Pura Vida Catering and Private Dining
Rogue River Lodge
Rosso's Trattoria
Taylor's Sausage
The Vine Restaurant

WINERIES
Bridgeview Winery
Cliff Creek Cellars
Deer Creek Vineyards
Del Rio Winery
Devitt Winery
Kriselle Cellars
Schmidt Family Vineyards
Serra Vineyards
Troon Vineyard
Wooldridge Creek Winery

BREWERIES
Arch Rock Brewery Co.
Griess Family Brews
Never a Bad Hop Brewing – JD Sports
Frank N Stene's Monster Growlers

Silent Auction Items
Here are just a few of the Silent Auction items up for bid …
Seven Feathers Resort and Casino Overnight Package
Overnight Stay at Mill Casino
African Adventure at Safari West
Wine Tasting and Tour at Cliff Creek Winery for 10 Guests
Jerry's Rogue Jets VIP Pass
Inn at the Commons "Night Away" Package
Gift Basket from Emelia's Closet
Gorgeous Jewelry from Fire Mountain Gems and Beads
Two-Night Stay at Lake of the Woods
Gift Cards from Gate Furnishings
Case of Estate Tempranillo from Abacela Winery
Overnight Stay at Applegate River Ranch House
Overnight Stay at Country House Inns
Hellgate Jetboat Excursion and Shop River Rock Package
Framed Watercolor Prints by Artist John Andrich
Golf at Grants Pass Golf Club
Saffire and Diamond Pendant by Harts Jewelers
Massages from Myotouch Healing Arts
Radio Frequency Skin-Tight from Marcella's Skin Renewal Center
And more!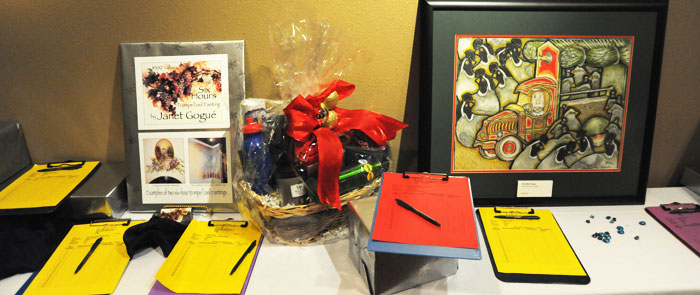 Still Accepting Silent Auction Items
If you would like to donate to the Silent Auction, please contact Mary Lynne DeRocher at mlderocher@kairosnw.org or complete the Silent Auction Form at our website.
Tickets Are Going Fast!
Last year, we were sold out two weeks before each of the evening events. Don't miss out! Purchase your tickets at Evergreen Federal Bank, 969 SE 6th Street, Grants Pass, or online at roguewinterfest.org.
Order online or at Evergreen Federal Bank, 969 SE 6th Street, Grants Pass.
Featured Sponsor
Thank you, Asante, for your Gold Sponsorship!
Welcome to Better Health! Asante combines leading-edge technology with holistic healing principles to deliver compassionate health care in Josephine County. Since building Asante Three Rivers Medical Center in 2001, Asante has invested more than $137 million in infrastructure, information technology, advanced medical technology, the hospital, and other medical facilities. In addition to providing more than 1,000 jobs in Josephine County, Asante has donated over $60 million to local charities, nonprofit community organizations, and in-kind charity care to those who need health care but cannot afford it—and that's just in Josephine County. Asante has been named one of the 15 Top Health Systems in the nation for the last two years in a row (2013–2014) by Truven Health Analytics, and it continues to receive national recognition for its cardiac and orthopedic programs. In the years to come, you will see Asante take the lead to meet the health needs of our community by recruiting more primary care doctors and specialists to Grants Pass and investing in the latest technology. Happy Holidays!
A Special Thank-You to Our Major Sponsors

Changing lives … one tree, one donation, one volunteer at a time.
Family Solutions, Kairos, and Options for Southern Oregon work hard to meet the mental and behavioral challenges of people within our community. These agencies were created to help meet these challenges. Through the support of the community, they are able to carry out their important work. The contributions raised by Rogue Winterfest are used to help fund these vital nonprofit mental health organizations.
Fundraising events such as Rogue Winterfest provide crucial support and services to our community. Please visit our website to learn more about sponsorship opportunities. We have many different levels and types of sponsorships ranging from a $350 Small Tree Sponsor to a $10,000 Platinum Sponsor.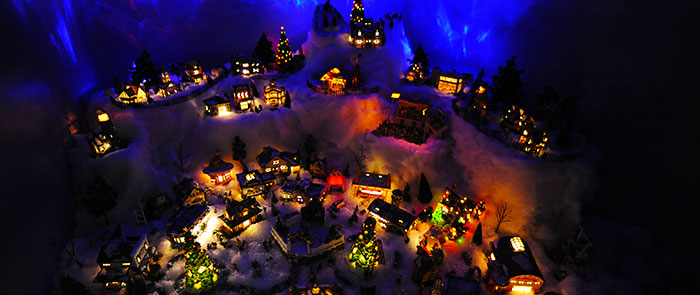 For More Details
Visit roguewinterfest.org or contact:
OR
Like us on Facebook for ongoing updates!