June 9, 2015
Planning Is Underway for Rogue Winterfest 2015!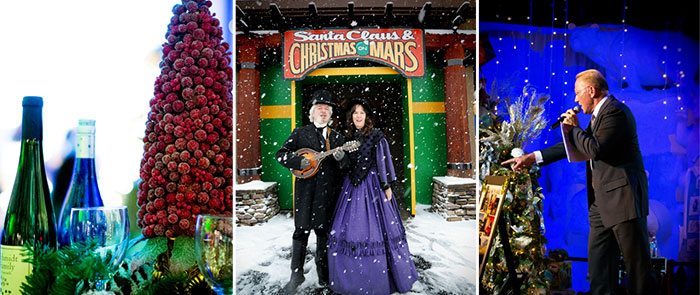 Five Spectacular Days … Four Magical Events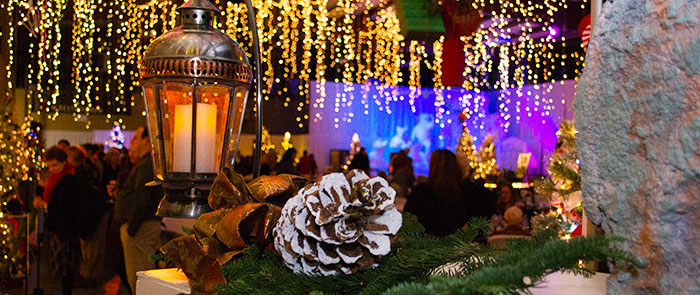 About Rogue Winterfest
Each year, this incredible festival grows larger—both in sponsorships and attendance. Rogue Winterfest showcases 30 theme-decorated trees and incredible Southern Oregon art at four spectacular events, blending artistry, culinary delights, entertainment, stunning designer creations, and holiday spirit … all under one roof.
All events take place at Evergreen Federal Bank's Bear Hotel. The Bear Hotel is a large warehouse where "The Bears" and other art displayed throughout our region are stored. Half of the warehouse is home to Evergreen's new Southern Oregon Adventure Exhibit. In early December, the other half of the warehouse is transformed into an amazing and artistic winter wonderland featuring Rogue Winterfest!
For a description of Rogue Winterfest events, please visit our website.
All events are held at:
2101 NE Spalding Avenue
Grants Pass
Like us on Facebook for ongoing updates!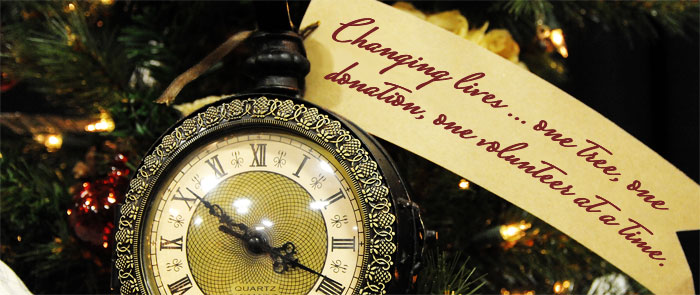 Changing lives … one tree, one donation, one volunteer at a time.
Family Solutions, Kairos, and Options for Southern Oregon work hard to meet the mental and behavioral challenges of people within our community. Through the support of the community, these nonprofit agencies are able to carry out their important work. The contributions raised by Rogue Winterfest are used to help fund these three vital nonprofit mental health organizations.
Fundraising events such as Rogue Winterfest provide crucial support and services to our community. Please visit our website to learn more about sponsorship opportunities. We have many different levels and types of sponsorships, ranging from a $350 Small Tree Sponsor to a $10,000 Platinum Sponsor.
It's a Community Effort
A Note from The Suites Assisted Living in Grants Pass
We are so grateful that you are allowing us (staff and residents) to be a part of something so amazing. The residents are very excited to be a part of the Rogue Winterfest. It is their chance to give back to the Grants Pass community.
This year, we have decided to incorporate our annual Christmas Bazaar theme into our tree. Our theme is inspired by Dr. Seuss: "Maybe Christmas, he thought, doesn't come from a store. What if Christmas, perhaps, means a little bit more."
Each month since the first of the year, our residents have been creating ornaments for our tree, which we as a community are sponsoring. They have been taking art classes to design the framed artwork that will be displayed. They will be helping our professional artist create and design the backdrop. Every aspect of our design and creation is a collaboration between staff and residents. We are truly joining forces to make this year's tree a great success!
Carnival Block Party on June 20!
We have also decided to take our commitment to helping Rogue Winterfest just one step further. We will be hosting a Carnival Block Party on June 20 from noon to 4 pm.
Humorist James Dent once said, "A perfect summer day is when the sun is shining, the breeze is blowing, the birds are singing, and the lawnmower is broken." At The Suites, we agree! So, take a break, pretend the lawnmower is broken, and join us for some summer kickoff fun! There will be clowns, games, face painting, a watermelon-eating contest, live entertainment, and traditional carnival food booths. All of the proceeds from ticket sales will benefit Santa's Bookshelf at Rogue Winterfest.
Again, thank you so much for allowing us to be involved in one of the biggest fundraisers in Grants Pass.
Best,
Jennifer Ambeau | Executive Director
1301 SE Parkdale Dr. | Grants Pass, OR 97527
Evergreen's Bear Hotel Transformation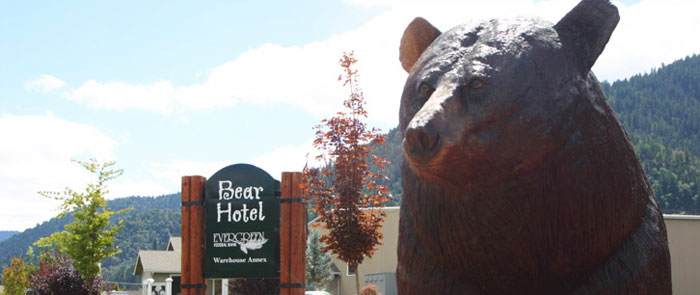 Join Evergreen Federal Bank's Bear Hotel this Christmas for the new Southern Oregon Adventure!
Inside the Bear Hotel an adventure awaits, beginning with a vista overlooking Crater Lake. Pathways lead visitors through majestic redwoods and canyons with waterfalls and wildlife critters created by local artists. A covered bridge opens yet another door to vineyards with rolling hills that make their way to the Oregon coast. And to top it all off … this winter, everything will be dusted with a layer of sparkling snow.
We are extremely grateful that the new Southern Oregon Adventure display at Evergreen Federal Bank's Bear Hotel will be part of Rogue Winterfest. Thank you, Evergreen Federal Bank! Evergreen's Southern Oregon Adventure Christmas Customer Appreciation Party will be held after Rogue Winterfest on December 12, 13, and 19.
For Details & Sponsorship Opportunities: