Gala and Grand Auction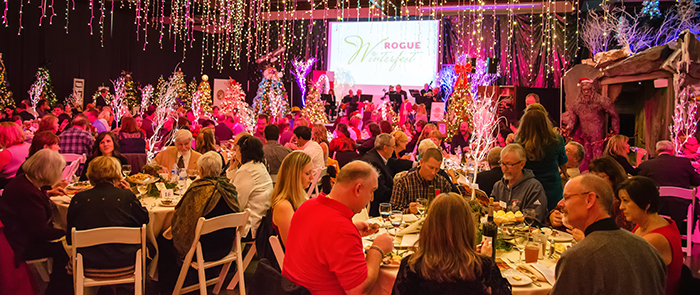 Thursday, December 3, 2015, 5:00 to 9:00 pm
PLEASE NOTE: Must be over 21 to attend
Prepared and sponsored by Taprock Northwest Grill and Event Center. 2015 Gala menu and entertainment will be posted by November 2015. Our 2015 sponsors and partners will be updated as culinary establishments agree to participate.
A Grand Evening

Catered and sponsored by Taprock Northwest Grill.
Enjoy our locally grown Southern Oregon Bounty Buffet complemented by local wines and top entertainment. Exquisite trees and art will be auctioned. Bid on items for your loved ones or favorite charity during this enchanting evening. See below for details.
Schedule
Wine & Brew Reception, Viewing of Trees & Art, and Entertainment
5:00 to 6:00 pm
Dinner
6:00 to 7:00 pm
Oregon Bounty Feast
Fresh Organic Greens from Fresh Express, Roasted Hazelnuts from Kirsch Family Farm, Cranberries, Fresh Pears from Harry & David, Rogue Creamery Blue Cheese Crumbles Tossed with Raspberry Balsamic Vinaigrette from Rising Sun Farms
Tri-Tip Topped with Avocado Butter & Rogue Creamery Blue Cheese Crumbles
Fresh Steelhead Steamed with Saki & Fresh Herbs
Grilled Asparagus Tossed with Olive Oil & Garlic
Fingerling Potatoes Tossed with Olive Oil & Rosemary
Fresh Bread & Herb Butter
Assorted Fresh Baked Desserts Served Tableside
Murf's Marvelous Pancakes (Trifles)
Margy Goss
A Special THANK-YOU to Our Food, Wine, & Brew Sponsors
Food Sponsors


Local Bakeries and Bakers
Murf's Marvelous Pancakes (Trifles)
Margy Goss
Catering
One of Southern Oregon's premier dining establishments, Taprock Northwest Grill has graciously donated the preparation of dinner and service for this event. All ticket sales will go directly to Family Solutions, Kairos, and Options for Southern Oregon.
Thank you, Taprock, for your generous contribution and for making this special night possible!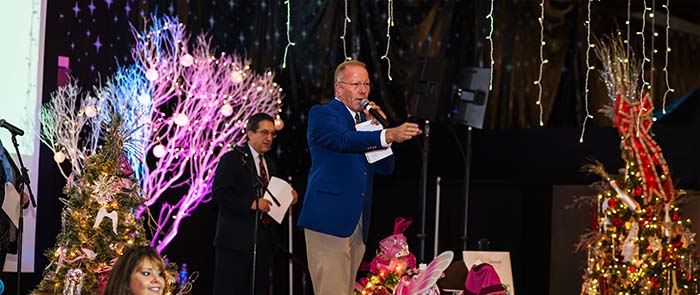 Live Auction
7:00 to 9:00 pm
Auction items include decorative trees, heirloom art pieces, and getaway packages. Proceeds from the auction will help children, teens, adults, and families at Josephine County's mental health organizations. Bid often … bid high! Make sure you check out all of the extraordinary gift items under the trees. Bid on your favorite item for your home, office, or charity. See Gala Auction to get a sneak peek at what will be auctioned this year.
A special thank-you goes out to J&C Auctions.
Oh, What a Night!
Thousands of lights are sparkling, the Bear Hotel is decked out to its fullest, the band is playing your favorite song, your tastebuds are deliciously sated, you ask for another glass of wine.… The excitement is building … until, at last … the auctioneer steps onto the stage and cries, "Welcome to the Rogue Winterfest Live Auction!"
A special thank-you to Southern Oregon Audio and Visual for providing lighting and audio for all of the Festival events!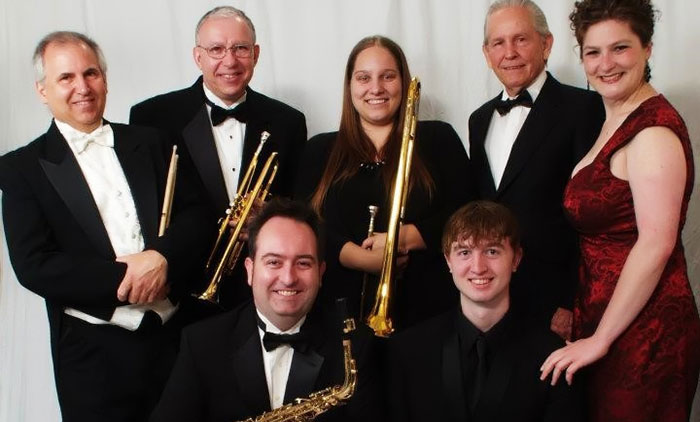 Entertainment
Tonight's entertainment is provided by Park Place Jazz, an assembly of professional musicians with decades of combined musical experience specializing in a wide variety of music genres, including jazz, swing, Latin, soul, and R&B.
Tickets
Tickets for the Gala and Grand Auction tickets go on sale in the fall. Stay tuned for details.