Gala & Grand Auction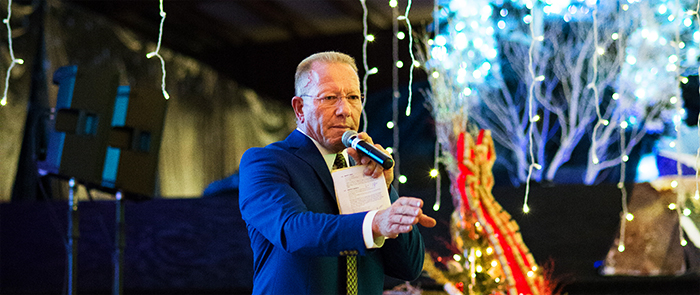 LET THE BIDDING BEGIN!
On behalf of Family Solutions, Kairos, and Options for Southern Oregon, we would like to thank all our tree and design sponsors, creative decorators, and artists for their generous support. A significant percentage of the funds raised comes from the Gala and Grand Auction. This year promises to be bigger and better than ever!
This page is constantly being updated beginning in the fall. Please check back regularly for exciting new additions.
All of the items below will be on display November 30 to December 4, 2017. They will be auctioned during the Gala Event on Thursday, November 30, and moved to their new homes on Tuesday, December 5, 2017.
Come join us at the Gala Event. For more details on the event itself, visit our Gala and Grand Auction page.
If you would like to donate an item for the Gala Auction, please complete our Auction Donation form.
Gala Auction Items
7½-Foot Trees
TREE SPONSOR

DESIGN SPONSOR

DESIGNER

THEME

Kairos Board of Directors and Staff
Eye Care Group
Mary Lynne DeRocher & Katelyn Sanderson
Minnie's Magical Christmas
Options for Southern Oregon Board of Directors
Caveman Heating & Air Conditioning Inc.
Karen Oakley and Cindy Freeman
New York, New York
Family Solutions Board of Directors
Banner Bank
Yvette Crume and Alijandra Diterlizzi
Let It Glow, Let It Glow.
Taprock Northwest Grill
Taprock Northwest Grill
Susan Crisfield
Flitting Faerie Fantasy
Pacific Power
Glass Forge
Susan Crisfield
White On White – Oh Wonderful!
AllCare Health
Ron & Margy Goss, Ben & Hill Russell
Margy Goss, Megan Schaefer, & Lisa LeGrand
Giving Tree
Lee Good
Lee Good, Susanne McGee, Tracy Cauble, & Karen LaLonde
Susanne McGee, Tracy Cauble, Karen LaLonde
All That Glitters
Cauble, Cauble, & Selvig Attorneys at Law
Karen LaLonde, Susanne McGee, Tracy Cauble, & Lee Good
Karen LaLonde, Susanne McGee, Tracy Cauble, & Lee Good
Have an          Elf-tastic Christmas!
The Suites Assisted Living
The Suites Assisted Living
Staff and Residents at The Suites Assisted Living & Rebel Bricks
Sometimes You Just Need to "Lego"….
Grants Pass Podiatry
One Eleven Theatre Company
Sandra Castle, Heidi Foss, Carol Hamilton, Imagin Foss, & Zymri Anderson,
Before the Last Petal
Country House Inns
Country House Inns
Stephenie Rigel
Jingle Bell Country Christmas
Lithia Chrysler Jeep Dodge of Grants Pass
Lithia Chrysler Jeep Dodge of Grants Pass
Chris Pondelick,
Paula Terwilliger, &

Christy Johnson

Bodhitaru (Wisdom Tree)
JD Fulwiler Insurance Co.
Roxy Dearing
Roxy Dearing
Childhood Memories
US Bank
US Bank
Karen Burroughs and Jan Lassfolk
Shades of Purple Beauty
Evergreen Federal Bank
Evergreen Federal Bank
Staff of Evergreen Federal Bank
She Flies With Her Own Wings
Floors to Go Grants Pass
Rogue Valley Door
Janet Gogue & Melanie Nicholson
Dearly Beloved
Riverside Home Health Care, Royale Gardens, and Highland House
Riverside Home Health Care, Royale Gardens, and Highland House
Angela Potter, Stephanie Potter, Jennifer Doman, Whitney Langfield, Rhonda Cornelison, Cassandra Lamar, Aaron Lamar, & Lisa Limauge
Never Grow Up
PrimaryHealth of Josephine County
PrimaryHealth of Josephine County
Robyn Lofing-Dean and Carly Maxwell
Get Your Country Music On!
The Home Depot
The Home Depot
Regina Ward, Alice Trejo-Smith, Pleashette Cleek, Carly Willhite, April Wiese, and Julie Dunn
A Very Minion Christmas
Southern Oregon Medical Aesthetics Center
Southern Oregon Medical Aesthetics Center
Roxanne & Krystle Dietz
Uncork and Unwind
Dutch Bros. Coffee
Dutch Bros. Coffee
Dutch Bros. Design Team
Sweet Dreams
Mini Pet Mart
Mini Pet Mart
Juanita Ford and Jeff Ford
Vintage Carousel
4-Foot Trees
| | | | |
| --- | --- | --- | --- |
| TREE SPONSOR | DESIGN SPONSOR | DESIGNER | THEME |
| Grants Pass Pharmacy | Grants Pass Pharmacy | Melinda Denney | Nordic Winter |
| Roe Motors | Ron & Margy Goss and Ben & Hillairee Russell | Lisa LeGrand, Megan Schaefer, Hillairee Russell & Margy Goss | A Littleton Christmas |
| First Interstate Bank of Grants Pass | Redwood Hyperion Suites | Julie Hunt | Life's a Beach |
| | | | |
| | | | |
Art Pieces & Displays
| | |
| --- | --- |
| ARTIST | DESCRIPTION |
| David Thomason Jr., Burnpile Design | Crater Lake, Oregon |
| Susan Crisfield | Wine Barrel Bench |
| Nick King, King Jewelers | Sunstone Sunrise |
| John Ellis | Hand Crafted Wooden Furniture |
| On-Site Featured Artist | Sponsored by Grants Pass Museum of Art & Black, White, and the Blues. Artist – Ron Anderson |
Other Auction Items
| | | |
| --- | --- | --- |
| AUCTION ITEM | DESCRIPTION | DONATED BY |
| Year of Bliss Wellness Package | Pamper Yourself at Club Northwest and The Spa at Club Northwest "Services for a Year" Package. Each month, enjoy a different treatment at The Spa at Club Northwest. Includes an annual family pass at Club Northwest, Kid Zone Birthday Party, Personal Trainer, Wellness Coaching, and MORE…. Valued over $5,750! | The Spa At Club Northwest |
| | | |